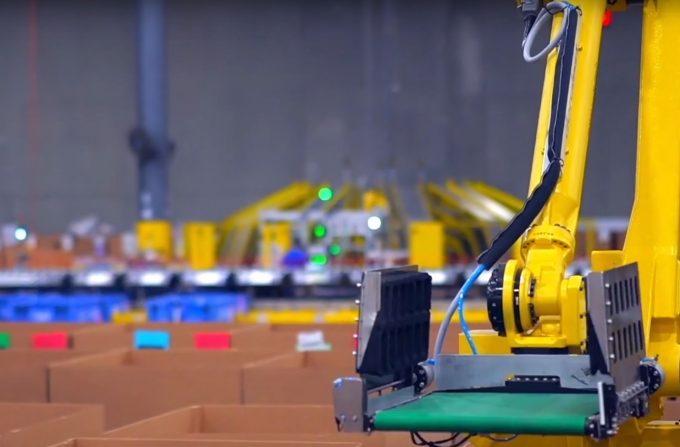 dhl's trial of its new robotic sorting device, Dorabot, at its US distribution center in Atlanta showed a 100 percent improvement in efficiency over manual operations, the company said yesterday.
dhl claims Dorabot can double the efficiency of its most productive employees.
"The challenge we faced was the human capacity to sort the bags – anywhere from 50 to 75 bags," said a member of dhl Americas. "We've seen 200 to 500 packages an hour and then they have to go through the bagging process.
The Dorabot hits over 1,000 per hour; we've hit 1,200-1,300 per hour with this machine straight off the line sortation system. "
Efficiency lies in the time difference in reading the waybill, for which Dorabot uses a barcode camera. dhl says the robot can sort packages in an average of 3.6 seconds, with a "close to zero" error rate.
The system is available in two configurations: sort-to-bag; and sort-to-gaylord – a gaylord is a bulk corrugated cardboard container usually mounted on a pallet or wheeled trolley.
The Atlanta system uses 20 gaylord containers placed around the robot. The system detects when a container is full and notifies the operator when it needs to be replaced. For safety reasons, the working area of ​​the robot is surrounded by a light curtain.
A survey of its global workforce by dhl found that logistics companies face considerable challenges, including staff shortages, and potential job seekers believe their jobs will be automated in a few years.
"We are facing labor shortages in driving and warehousing," said Klaus Dohrmann, vice president of innovation and trend research in Europe.
Dr Dohrmann added that some jobs in logistics, such as last-mile deliveries, are challenging to automate "soon", and dhl expects that by 2024, "only 10% of last-mile deliveries will be automated. , because of the complex last-mile environment".
He said: "I find it interesting that wages are clearly not as important as these softer topics – sustainability, corporate social responsibility and the opportunity to work from home.
"This is an interesting finding that we need to take into account in our approach. As a company, we have to think about how to be an attractive employer… More than 50% of respondents felt that technological advances could threaten their jobs and careers.
"There is a tendency now to talk about automation — replacing humans. But in logistics, the tasks are complex and varied. The value of augmenting humans with technology is much greater," he added.